By Guinness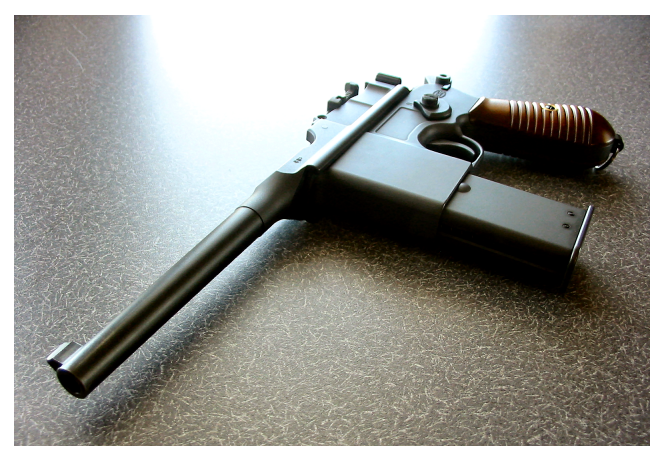 Real Steel Background & History
The "Broomhandle" Mauser is arguably one of the most well known and recognized designs of the two World Wars. This weapon has been featured in films about World War I, World War II, not to mention 'B' movies, and most notably as the basis for Han Solo's Blaster from Star Wars.
It is hard to imagine that this design actually dates back to the late 1800′s, a time in the western United States's Territories that was still ruled by so-called "Gunslingers" and 'outlaws' using the Colt .45 "Peacemaker" or cap-and-ball handguns used in the US Civil War.
Surprisingly, the C96 was not actually designed and created by Paul Mauser, but by his employees the Feederle Brothers, Fidel, Friedrich, and Josef. All three worked in the Mauser 'Experimental' division and had been interested in the newer "Self-Loading" mechanical handgun systems under development in the late 1800′s such as the Browning – Colt firearms and the Steyr Mannlicher pistols. They dubbed their design the "C96″ or "Feederle Pistol"
The brothers presented their work to Mauser and he renamed it the "Mauser Military Pistol" in hopes of securing Government contracts to sell the new design. Although the weapon was purchased by Germany, China, Turkey, Indonesia, and Italy it was never adopted as the primary sidearm of any country and thus never had the sales success that Mauser envisioned.
The 1896 "Mauser Military Pistol" and it's variants were produced by Mauser and its licensed subsidiaries in reasonable numbers through to the 1930′s (And by China into the 1950′s). The original Mauser factory records were all destroyed by a short-sighted US Army Officer in 1945, so subsequent C96 model identification and product evolution has been difficult to track since that time.
More information and detail on the 'real-steel' weapon can be found at:
Airsoft Replica Description
Presentation: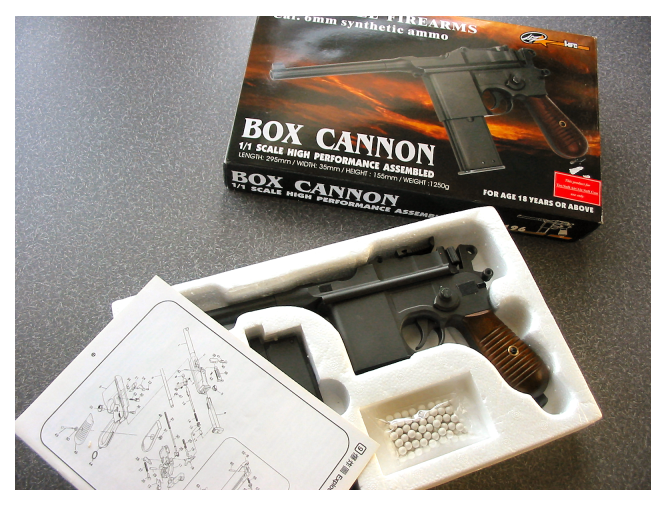 Packaging
As usual with these reviews, yes- the box is heavy….This is a FULL METAL replica! the box states 1250 grams, which is just shy of 3lbs, and let me tell ya, it's ALL of that!
The Product
VERY Impressive on first glance- Honestly I have never owned a HFC replica and …well was not expecting that much. I had read some initial reviews of other HFC products saying things like "Good value for the money" and the like, so I just kind of figured "Well, let's see for ourselves"
The metal used is something along the lines of a 'parkerized' gray-ish cast- which is not bad at all. I would have preferred a nice blued finish like the Marushin modelgun I own, but this is not ugly or odd looking at all as you can tell from the photos.
I ordered the more expensive "Collectors Edition"
from WGC Shop because, well ok, I'm a trademark freak….There, I said it ;) Anyway, I own the Marushin PFC modelgun version of the M712 and had been considering picking up the Airsoft version, when the Full Metal HFC replica came along I thought some more about it, and then when I saw the 'Collectors Edition' with full trades, that settled it.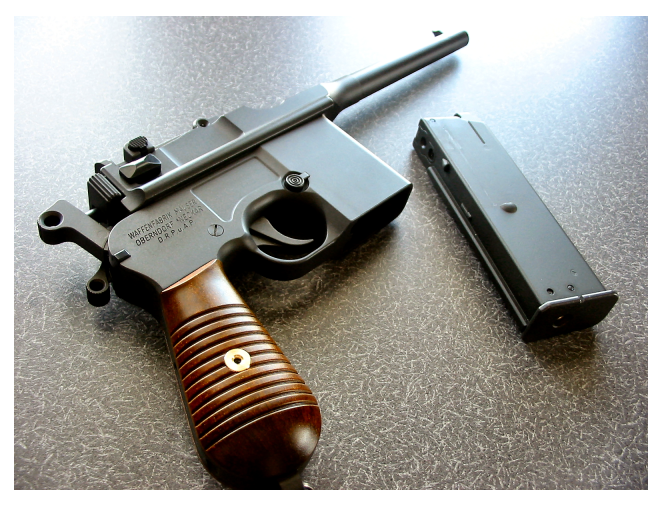 A Little Replica Background
The HFC Airsoft "Box Cannon" is based upon the 1932 M712 "Schnelfeuer" variant of the Broomhandle Mauser. This version had select fire ability with a flip of the switch on the left side taking the pistol from Single Fire to Full Auto. Most C96-Broomhandle-M712′s were produced to fire the 7.63x25mm Mauser cartridge, however there were many produced in 9mm Luger as well. And there are Chinese variants in .45 Auto.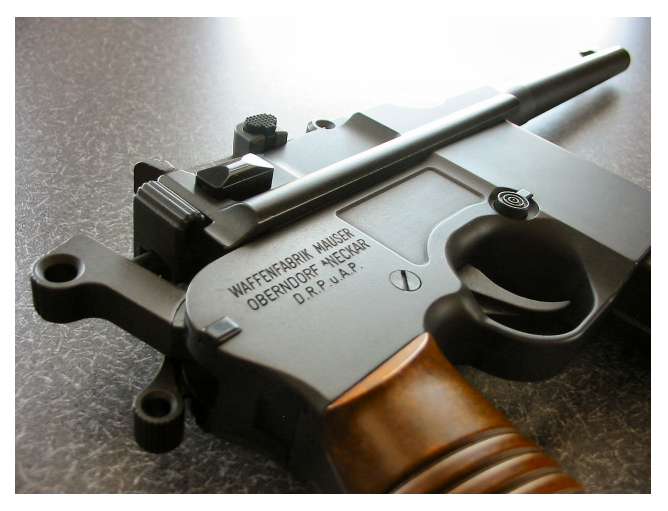 Impressions
As stated this weapon is H-E-A-V-Y (3lbs whew!). I am used to heavy pistols, I own a KSC Mk23 SOCOM with metal slide and Barrel, and this is even heavier than that. I listed the Full Metal feature as both a 'pro' and a 'con' because I think a prospective buyer should consider that before they decide to field this weapon for WWII skirmishes.
I believe the weight will take some getting used too, and at very least provide a stable platform for shooting this weapon system.
There are repro wood stocks availible for this gun from a militaria retailer in the US, I am considering purchasing that to add to the 'cool' factor as well as providing increased stability for using this Airsoft weapon.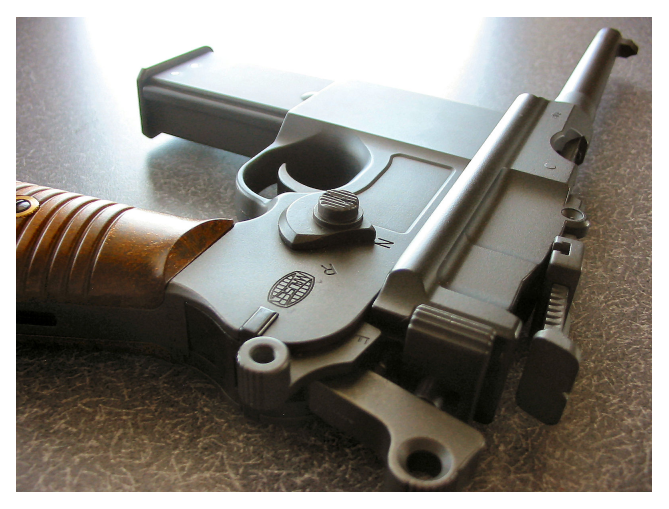 Shooting the Weapon
I'm not cool enough to own a chrono yet- I use the local Airsoft groups equipment ( http://www.coloradoairsoft.org ) but have not been with them to clock this gun yet- and I will update this review with pics from the 'target practice' test I performed, but long story short, this gun performs quite well, 4 to 5 inch groups at 30 feet using GreenGas. I have read reports that this weapon is in the 400+ range with GreenGas.
The HFC Broomhandle Mauser is a NBB, so there is no blowback machanism. I am not usually a fan of this system, pretty much a 'GBB or nuttin' kind of guy, however in this instance since this is such a large gun, I believe the NBB feature works and the double action system allows you to keep the firing rate high and keep the long barrel on-target better.
The HFC Mauser magazine holds 30 rounds, unfortunately I have not seen any extra, backup mags offered for sale by any of the retailers as yet.
Conclusion
To wrap up, I believe the HFC represents a great value for the Airsoft Replica owners hard-earned Dollar, Pound, Euro, or whatever currency you trade in.
The combination of Full Metal authenticity, weight and 'real-steel' feel really adds to the overall experience with this weapon. The only 'down-side' if you can call it that is this beast could well be a burden for some of our younger or smaller players to field for a long Airsoft battle and that should be taken into consideration. However the sturdyness of this gun combined with its power and accuracy may well out'weigh' (Pun intended) any drawbacks- I would consider this weapon as a serious 'intermediate' between a rifle and a handgun as the long barrel length will allow 'stand off' shooting.
The real bonus for many purchasers without my silly trademark fetish is this gun in its 'plain brown wrapper' as it generally retails right around the $100 dollar mark- an exceptional value in my opinion. As well there is a "Box Cannon Carbine" version with stock and greatly extended barrel that may well be the 'sleeper' sniper weapon on the market today- Cheap, accurate, powerful…and did I say cheap?
Check it out- This isn't your older brother's Taiwanese low-quality knockoff anymore ;)
-Guinness